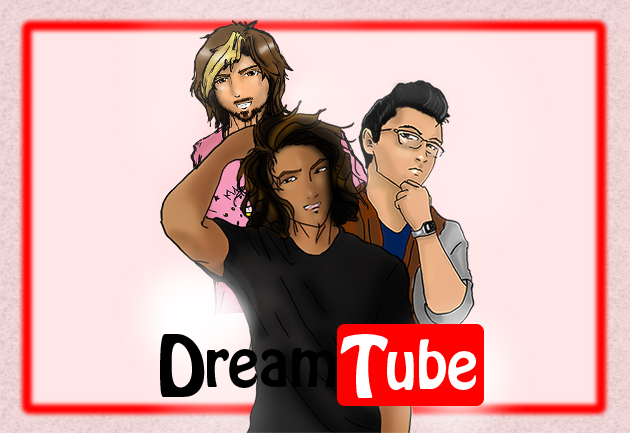 DreamTube
A downloadable game for Windows and macOS
****THIS IS A FAN PROJECT FOR FUN. THIS IS A NOT FOR PROFIT GAME.****
Have you ever wanted to work with some of the hottest Youtubers out there? What about have a chance to woo them over? Well, here is your chance!
You are a new intern at the Grump offices. You're excited but unsure of how things will go. Who will you work with? Will it turn to spicy romance....or horrible diarrhea? Play and find out!

Magical Girl Arin with his kawaii desu looks?
Dan, the Jew?
Markiplier, the guy with 5 ovens?
PROLOGUE EPISODE NOW AVAILABLE! (It is pretty short, and is just a taste of the game to come!)

~~~
Hi everyone! Thanks for visiting, and for trying out the game. This game is not for profit, as it does involve people and names that I have no claims to. I mean, I don't want want to get sued by anyone so....

This is a one woman project, and I also work full time and am in college full time, so please forgive me if updates are slow.

Planned updates include routes for all three starting characters.
Additional characters at a later date.

~~~

All of the artwork in the game is mine. Please do not reupload or use without permission or proper credit. Please do not reupload this game without permission.

Bedroom image from flickr via mahileather.com
Office background images via Google and GameGrumps and Markiplier Youtube screen caps. (Edited for use in game by myself.)

Thump sound via https://freesound.org/s/389630/

Install instructions
Download the Zip file for your needs. (Mac or PC) Depending on your connection, this may take a few minutes.

UnZip the folder and install it where you wish.

Click the Dream Tube 1.0 folder.
Inside the file click on the Dreamtube.exe file to run the game.

Comments
Log in with itch.io to leave a comment.
Wow!! Loving the art! And it's pretty fun so far, I can't wait for the full release!